Why Is This Girl Smiling?
« Humor »
No, seriously: why?!?!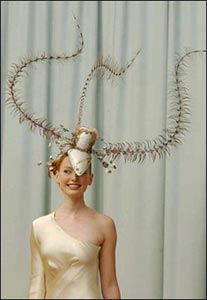 LONDON -- Actress Alicia Witt models what is claimed to be the most colossal waste of effort in creating stupidest hat ever made, the $2,700,000 Champrau d'Amour, by celebrity couture hat designer Louis Mariette, at Christies in London. The hat is covered entirely in dazzling diamonds and inspired by entwined ivy and bluebells. (06/14/04 AP photo)
Oops, that wasn't exactly what they actually said, was it?
LONDON -- Actress Alicia Witt models what is claimed to be the most expensive hat ever made, the $2,700,000 Champrau d'Amour, by celebrity couture hat designer Louis Mariette, at Christies in London. The hat is covered entirely in dazzling diamonds and inspired by entwined ivy and bluebells. (06/14/04 AP photo)
Posted by Nathan at
01:33 PM
|
Comments (3)