I picked up my L1A1 from layaway on Monday. I haven't had a chance to take it to the range yet...
Sometimes I think I like the idea of owning guns more than using them. But in any case, based on an article by Kim du Toit on what rifle he would give the average US military rifleman, I researched and fell in love with the VEPR. Here's a pic: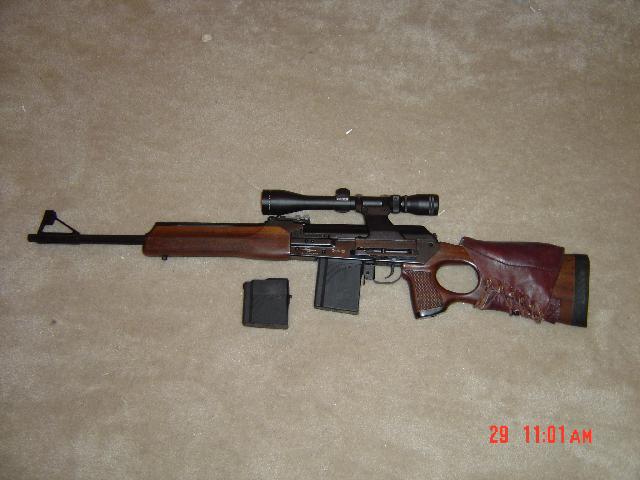 It's based on the AK-47. More accurately, it uses the RPK squad automatic weapon receiver, which is based on the AK-47. The thicker metal and heavier weight of the machine gun receiver, plus a hammer-forged and chrome-lined barrel help to make this a very accurate weapon.
I got it because it's also in .308, just like my L1A1, but this one is already drilled and tapped for a scope (and comes with it). I expect I'll have lots of fun with the L1A1, but this will be more of a serious rifle for me: serious hunting, serious accuracy practice, etc. I'm sure I'll work up accurate handloads for this baby (when I finally start handloading!!), because it's a rifle with which I should be able to see the difference.
I think I'll have fun.
The only thing I'm still not clear on: I recently learned that the reason Stoner used direct gas impingement to cycle the rifle in the M-16 system (like the MAS 49/56), rather than the piston of the AK-47 system, is that the motion of the piston itself throws off accuracy more than a small blast of gasses. I guess the FN-FAL (L1A1) mitigates this by using a short-stroke piston. The 6.8 SPC version of the M-16 apparently was designed with the gas port in a "sweet spot" midway between that of the AR-15 (in 5.56mm) and the AR-10 (in .308/7.62 NATO), so perhaps it is possible to make several choices to maintain accuracy in piston systems...? Dunno. I'll post some range reports after I get familiar with the rifle. That might not be for a month or two...